---
Aqua Launch
Inflatable Swimming Pool Slide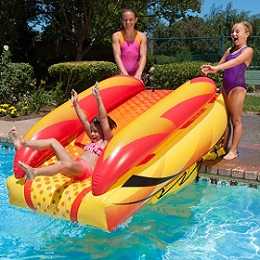 92" of Aqua Fun
Heavy-duty 14-gauge vinyl
Large side rails
Water-filled base secures slide
with connectors and ropes
Hose attachment and spray nozzles
to keep slide cool & Slick
Learn More >


Intex-Ocean Inflatable Play Center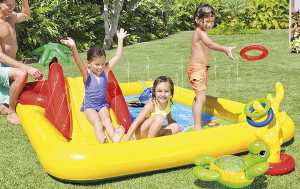 Features
100" X 77" X 31"
for Ages 2+
Small pool and larger wading pool
with water slide
Learn More >>>
Kahuna Twin Peaks
Inflatable Backyard WaterSlide

The Kahuna Twin Peaks Inflatable
Backyard Water Slide Park has 2 slides,
A fire hydrant water cannon,
Multiple water sprinklers &
2 basketball hoops.
Read More >>>
O-Zone Plus Water Bouncer
by Rave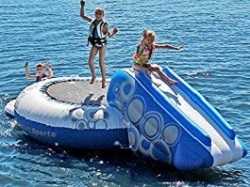 5 ft Bounce Platform with Slide

Slick Slider Island
Swimming Pool Slide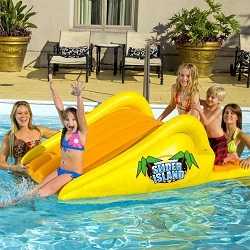 The unique Slick Slider Island Slide
is built so you can have safe, sliding fun
in the pool, Lake or Pond.
The Slick Slider Island pool slide features
durable 10 gauge PVC construction,
3 air chambers, 6 handles,
and 1 anchor point. 5'....
Learn More > >>>
Island Hopper 10' Bounce N Splash
Water Park with Bouncer Slide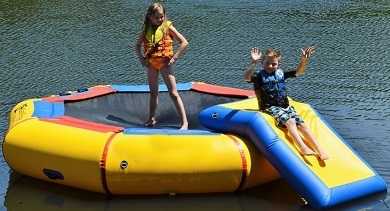 Water Park comes with 10ft Water Bouncer and Island Bouncer Slide
5 year seam No Blow-Out Limited warranty
Exclusive 1/2inch foam perimeter Padding for comfort and safety
Heavy commercial construction Using 1000 Denier PVC material
Spring-less, interlaced nylon webbing bouncer design
Bouncer Dimensions: 7ft 6inch jump surface & 23 inches up off the water
8 swimming assisted handles,
6 anchor secure D-rings,
4 step easy access ladder.
Learn More >
Safari AboveGround
Swimming Pool Slides
Commercial Quality Slides
Designed & Engineered for use on
Above Ground Swimming Pools
Deck Mount Ground Mount
Safari One Image
Safari Two Image
Learn More >>>
Save On
6 Foot - Aqua Glide
Inflatable Pool Slide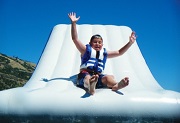 Dimensions: 13 L x 6 W x 6 H
Maximum User Capacity: Three (3)
Maximum Suggested Weight Load: 600 lbs.
Learn More >>>
Be the coolest house on the block
with this Extreamly Popular Inflatable Pool Slide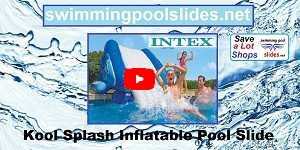 Click to View
Kool Splash Inflatable Pool Slide Video >>>
Simply attach a garden hose to the Water Slide &
the built-in sprayers will keep the slide surface

Cool, Wet and Slick.
Buy it Now >>>
Free Shipping
Electric Quick-Fill Air Pump
110V AC/12V DC
For Pool Toys, Floats and Rafts
>>>
See our special Sale Price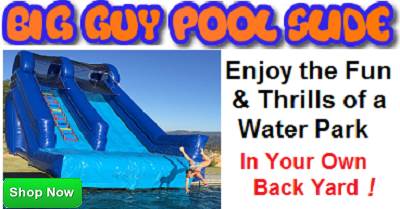 The Big Guy Inflatable Pool Slide

is rated for use on both
Residential and Commercial
Inground Swimming Pools

SPECIAL OFFER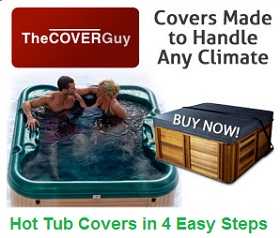 Learn More >>>
Water VolleyBall
Equipment, Nets & Balls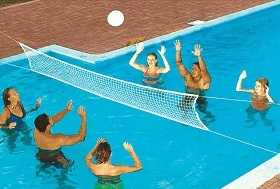 Pool - Beach - Sand




All Pool Slides


Shop Now


Need Help ? Feedback ?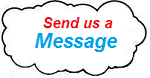 TAP to Call Us
or Dial
(Eight Zero Five)
613-7283
All Pool Slides



>>>
Swimming Pool Slide
Videos >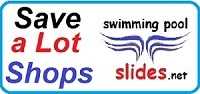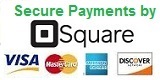 >>>
Privacy Policy >
Terms of Use and Service >
Shipping - Delivery - Returns >
Site Map >
Affiliate Disclosure >

We may be paid a commission for sales
that are generated through links or
advertisements appearing on this site
Anti-Spam Policy >
© Copyright 2003 - 2019
SwimmingPoolSlides.net All Rights Reserved